Jan Vytásek & Blackbirds
Motto: "We look good, we play awesome, we entertain people…"
Dear music agencies, brides, brooms and organizers!
Hopefully, there are brighter times ahead of us, and your diary becomes booked same as mine. Having my third original songs album released in April, I still focus on private events, weddings and gala-events too.
Naturally, during my public performances I prefare playing my original songs, of which some could be known form concerts or radio airplay. At parties, I can also play little some of my own stuff, but mostly, my party – repertoire is based on world famous hits, which I have a wide wide load.
Who am I, what I've been doing, where I've been … all of that you can read in the "about" section. On this page, I offer you a splendid music program exactly for your party, prom, festival, wedding… simply whatever comes on your mind 
Do not hesitate!
See the vid…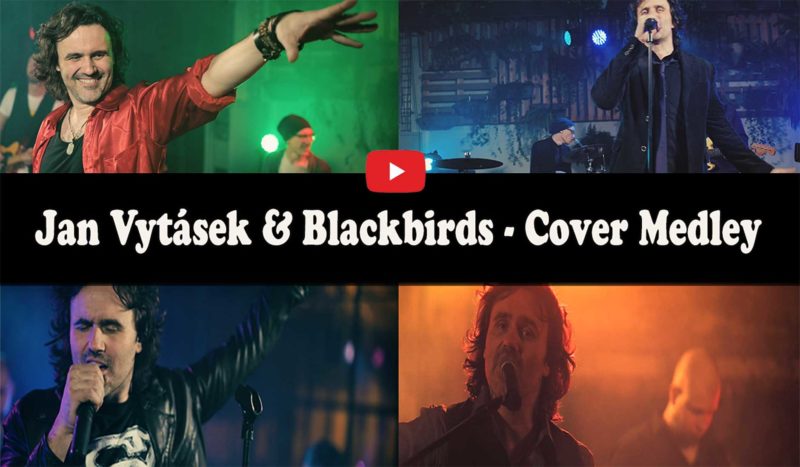 Or check out some older mp3 medley here
Event agencies say:
Sounds like: "Tom Petty, Bruce Springsteen, Bryan Adams"
– Petr Korál, Muzikus.cz, Radio Beat
---
Jan is a phenomenal singer with unbelievable vocal range, so he can deliver your favorite hit song in proper key with an authentic presentation. Hearing his interpretation of, for example Freddie Mercury (Queen), is truly heart-warming experience. He is a rocker with romantic soul, and beside that, clean-limbed man with great energy to share.
– PartyLeaders Agency
---
There is a fine mixture of rock drive and melodic belcanto flavour in Jan´s voice. This explains an interpretation ability of spicy rock classics along with smooth balads.
– Tune The Spoon Agency
Anyway, check for yourself!"
---
Types of performances:
1/ band – electric version – for standard parties including bigger stage
2/ band – unplugged – for smaller venues, where you´re not sure about a noise of drums and electric guitar. This version has better volume dynamics control, but can be dynamics as well. Check the audio here or see the video:
3/ solo with guitar accompany – (2 musicians) for shorter guest performance
4/ solo with guitar or "halfplayback" (a version where the singer sings with an pre-recorded music accompany) suitable for guest performances. This version requires local sound guy and is very easy to prepare.
---
Party repertoire:

Queen  Somebody To Love


Christina Perri  A Thousand Years


  Wet Wet Wet  Love Is All Around


Queen  We Are The Champions


  Foreigner I Wanna Know What Love Is
Aha Take On Me
Jan Vytásek  Lost And Found
Cat Stevens/Mr.Big  Wild World
Louis Armstrong/Rod Stewart What A Wonderful World
Bryan Adams  Heaven
Roy Orbison  You Got It
Robbie Williams  Angels
Elvis Presley  That's All Right Mamma
Elvis Presley  Good Rocking Tonight
The Beatles  I Saw Her Standing There
Mike And The Mechanics  Over My Shoulder
John Lennon  Imagine
Burt Bacharach  Raindrops Keep Falling On My Head
The Beatles And I Love Her
John Denver Annie's Song


  Tom Petty & Heartbreakers  Learning To Fly

Queen  Crazy Little Thing Called Love
Queen  I Want To Break Free/Under Pressure


  Creedence Clearwater Revival  

Proud Mary


Morcheeba  Rome Wasn't Built In A Day
Tom Jones  Sex Bomb


  Joe Cocker  You Can Leave Your Hat On
Tal Bachman/Kurt Nilsen  She's So High
Friends Theme – The Rembrandts  I'll Be There For You


  Bruce Springsteen/Patti Smith  Because The Night
Benny E. King  Stand By Me
The Animals  The House Of Rising Sun


  Jan Vytásek  Angelina
The Monkees  I'm A Believer
Bryan Adams  Run To You
Midnight Oil  Beds Are Burning


  R.Orbison/C.Lauper  I Drove All Night


  Jan Vytásek  Shine Through The Night


  Jan Vytásek  Přísahám /I Swear To You


  Bryan Adams  Everything I Do I Do It For You
Oasis  Wonderwall


  Jan Vytásek  Many Times


  Soul Sisters  The Way To Your Heart
U2  With Or Without You


  Bryan Adams  Summer Of '69
Tom Petty & The Heartbreakers  I Won't Back Down
Tom Petty & The Heartbreakers  Free Falling
Creedence Clearwater Revival  Have You Ever Seen The Rain
Lou Reed  Perfect Day
This playlist contains a band selection. But for Jan himself he has dozens, hundreds of songs in the background, for example by Beatles, Bryan Adams, Bon Jovi, Queen, Creedence Clearwater Revival, simply the rock classics and could perform some of them just by a guitar on your request!

  Check out the YouTube Profile!

  check the website

  stay updated on the facebook
Some of happy and satisfied clients:
Adidas
Albert
Allen And Overy
Amgen
Angelo – Vienna Group Hotels
Assist, spol. s r. o.
Aquapalace Praha
Aquatherm
Asklepion
Baumatic
Benátská noc
Biathlon Jablonec
Carpathia Festival (PL)
CCL
Clarion
COMN
Creative Weddings, s.r.o.
ČNB
ČSOB
DAF
DEK a.s.
Dell
Den Železnice Brno
DHL
Diplomat Praha – Vienna Group Hotels
Electrolux
Festival Soundtrack Poděbrady
Festo
FK Baumit Jablonec
GEP, s.r.o.
Grassroots
Guarant
Harley Davidson Šalamounka
Ikea
Incoming Praha
JamRock Žamberk
Kare Café
Kärcher
Knauf
La Terrase
Lesy ČR
Lindt
Linet
Manažérská akademie Beroun
Městské slavnosti Čáslav
Hilton Praha
Mish Mash
Mountfield HK
Next Level
Nikon.cz
NN pojišťovna
OK Systems
Olympijský park Lipno
OMW
PilatusKeller, Hergiswill (SWI)
Pojišťovna ABC
PPM
PPM Brno
Pražská Křižovatka
Price Water Company
Quix Praha
Rhapsody Praha
Roch
Servier
Slavie Praha
Sparta Praha
Spořitelna Praha
SPŠ Jihlava
ŠKODA AUTO
Škofin
TV Nova
Vaillant
Vinotéka Palavín
Vista Dolní Morava
Vítkovice Holding
Westin Bellevue Dresden
Wedding Factory
White Agency
Worwerk, a.s.
Wüstenrot
Zátiší Group
… a další desítky, možná už stovky spokojených svatebčanů, kterým jsme zpříjemnili jejich velký den, či maturitní večírky a soukromé oslavy
---