Jan Vytásek & Blackbirds
Our performances include mostly open air festivals and club performances with original music. But we also often perform at private events. Why not? Audience is simply audience! And – besides original songs – whe have a wide load of amazing cover versions which just fit to your party! So feel free to book us privately for your event!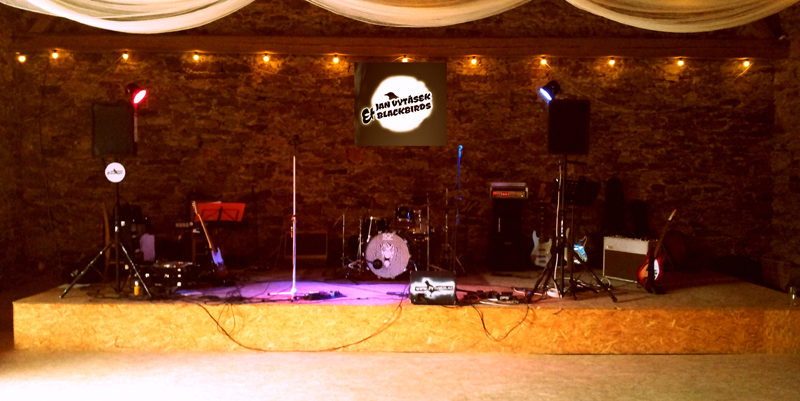 Event agencies say:
"You might have seen him as a frontman in bands like Professor, Lightmotif, PartyLeaders and – more importantly – the formation Jan Vytásek & Blackbirds, which have been around in many variations since 2002.
The repertoire for public gigs and festivals is naturally based on Jan's original songs, some of which might have been heard in traditional media.
On the other hand, the playlist for parties contains many favorite cover versions of world's famous hits. Thanks to unique vocal timbre, range, and personal intepretation the repertoire contains pop-rock classics, some of which could be hard to find in standard party-band's playlists.
Jan Vytásek and his band are old-time-skilled matadors with a sense for playing softly when it's necessary, and recognize when audience is ready to turn your party into the proper pop rock event on high-class level.
Anyway, check for yourself!"

  Soul Asylum  Runaway Train


  Wet Wet Wet  Love Is All Around
Jan Vytásek  Lost And Found
Cat Stevens/Mr.Big  Wild World


  Bryan Adams  Heaven
Roy Orbison  You Got It
Robbie Williams  Angels
Elvis Presley  That's All Right Mamma
Elvis Presley  Good Rocking Tonight
The Beatles  I Saw Her Standing There
Mike And The Mechanics  Over My Shoulder
Roy Orbison  Pretty Woman

  Foreigner I Wanna Know What Love Is


  Jan Vytásek  Lady M
Blue Effect  

Sluneční hrob


Shocking Blue  Venus
John Lennon  Imagine
Burt Bacharach  Raindrops Keep Falling On My Head
The Beatles And I Love Her
John Denver Annie's Song


  Tom Petty & Heartbreakers  Learning To Fly


  Queen  Somebody To Love
Queen  Crazy Little Thing Called Love
Queen  I Want To Break Free/Under Pressure


  Creedence Clearwater Revival  

Proud Mary


Morcheeba  Rome Wasn't Built In A Day
Tom Jones  Sex Bomb


  Joe Cocker  You Can Leave Your Hat On
Tal Bachman/Kurt Nilsen  She's So High
Friends Theme – The Rembrandts  I'll Be There For You


  Bruce Springsteen/Patti Smith  Because The Night
Benny E. King  Stand By Me
Aerosmith  I Don't Wanna Miss A Thing (Armageddon Soundtrack)
The Animals  The House Of Rising Sun


  Jan Vytásek  Angelina
The Monkees  I'm A Believer
Bryan Adams  Run To You
Midnight Oil  Beds Are Burning


  R.Orbison/C.Lauper  I Drove All Night


  Jan Vytásek  Shine Through The Night


  Jan Vytásek  Přísahám /I Swear To You
Whitesnake  Is This Love


  Bryan Adams  Everything I Do I Do It For You
Oasis  Wonderwall


  Jan Vytásek  Many Times


  Soul Sisters  The Way To Your Heart
U2  With Or Without You


  Bryan Adams  Summer Of '69
Bonnie Tyler/Rod Stewart  It's A Heartache
Tom Petty & The Heartbreakers  I Won't Back Down
Tom Petty & The Heartbreakers  Free Falling
Whitesnake  Here I Go Again


  Queen  Love Of My Life
Creedence Clearwater Revival  Have You Ever Seen The Rain
Queen  We Are The Champions
Lou Reed  Perfect Day
So this is a band selection. But for Jan himself he has dozens, hundreds of songs in the background, for example by Beatles, Bryan Adams, Bon Jovi, Queen, Creedence Clearwater Revival, simply the rock classics and could perform some of them just by a guitar on your request!